Diplomas de Español como Lengua Extranjera (DELE)
Registration for the DELE exams in November 2023 will open on Monday, September 4
Types of DELE diplomas
| | | |
| --- | --- | --- |
| DELE Diploma in Spanish | Framework of Reference | Level |
| | A1 | Breakthrough |
| | A2 | Waystage |
| | B1 | Threshold |
| | B2 | Vantage |
| | C1 | Effective Operational Proficiency |
| | C2 | Mastery |
The University of Salamanca collaborates with the Instituto Cervantes in the development of the examinations and in the marking of the examination papers.
The examination for obtaining the DELEs (A1, A1 Young Learners, A2, A2/B1 Young Learners, B1, A2/B, B2, C1 and C2) consists of different tests: reading comprehension, written expression, listening comprehension and oral expression. The grade "no apto" (unsatisfactory) in one of the sections will imply the candidate's failure in the entire examination. All parts should be retaken at a future date.
Sample examination paper and past papers
https://examenes.cervantes.es/es/dele/preparar-prueba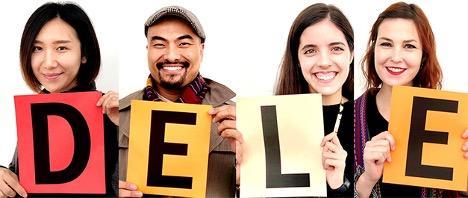 Examination Date and Registration fee
Dates
A1 escolar, A2/B1 escolar
Date for the Written Exam: Friday, May 12
Date for Oral Interview: To be confirmed
A1, A2, B1, B2, C1 and C2
Date for the Written Exam: Saturday, May 13
Date for the Oral Interview: To be confirmed
Dates for the Oral Interview: Our Examination Center will try to schedule all the oral interviews on the same date of the written exam. However, if we consider it necessary, we may schedule oral interviews for specific levels on Saturday, May 6. More information will be announced in due course.
Venue: UOW College Hong Kong. Kowloon City Campus, 83 Sa Po Road, Kowloon City; KLN
Schedule: To be confirmed by our examination Center
Deadline to register and upload all supporting documents: March 15, 12 noon. No late registration will be accepted.
Date

Level

Individual application

Discount Rate*

12 May 2023 (Fri)

DELE A1 Escolar
(Starter Young Learners)

HK$1,450

HK$1,340

DELE A2/B1 Escolar (Elementary/Lower Intermediate Young Learners)

HK$1,800

HK$1,665

13 May 2023 (Sat)

DELE A1 (Starter)

HK$1,450

HK$1,340

DELE A2 (Elementary)

HK$1,600

HK$1,480

DELE B1 (Lower Intermediate)

HK$1,800

HK$1,665

DELE B2 (Higher Intermediate)

HK$2,200

HK$2,035

DELE C1 (Advanced)

HK$2,300

HK$2,130

DELE C2 (Superior / Proficiency)

HK$2,350

HK$2,175
* The discount rates above are available for UOWCHK current students, groups (minimum 10 students), and SPANISH WORLD students.
Please fill in and submit this supplementary DELE Discount Form together with your registration form if apply with discount.
Application
Step 1.

Online registration; one email address for one applicant.

All supporting documents need to be uploaded before submission.

Registration Form: https://forms.gle/HATiD7G66dLssAzR7

Step 2.

After receiving your registration form, HKID and proof of payment, we will register you in the DELE system.

You will receive an automatic confirmation from Instituto Cervantes by email around March 15.

(Please contact us in case you do not receive this email)

Step 3.

Examination tickets, schedules and acknowledgement receipt will be emailed from our office.

(Please contact us in case you have not received these documents ONE WEEK before the examination date. You will need these documents to access the examination venue)
Changes of Personal Information
Please review your personal information when you receive the confirmation email from Instituto Cervantes around March 15, 2023. In case there is any personal information wrong, you need to fill out DELE Correction Form and submit it to us as soon as possible.
If you need to change personal information after the exam or in the future, you can do it directly through the DELE portal following this link.
https://cau.cervantes.es/index.php
Attention
Please read all the conditions in the Registration Form.
Please complete all the spaces on the Registration Form. We will use this information to contact you and to inform you about the instructions for the examination, results, etc. Please include your e-mail address.
Please write the date and sign the registration form. For candidates under 18, a parent/guardian needs to sign the form.
If you change your address, before or after the examination, please contact your examination site.
In case you are applying for a discount, please fill out DELE Discount Form
In case you need to cancel your registration, you have 14 days after the date of your registration form to do so, and be eligible for 100% refund.
All the registration will be entered in the Instituto Cervantes System after the deadline on March 15. upon successful receipt of your application form and other supporting documents. Please contact us if you do not receive any document sent from the Instituto Cervantes system by March 15
For the examination venue: We will be instituting new measures for access to our campuses aligned to the Government's guidelines.
In the unlikely event of insufficient enrolment for DELE, UOWCHK reserves the right not to offer it.
If due to unforeseen circumstances beyond our control we need to cancel the exams, we will notify candidates as soon as possible.
About results
Instituto Cervantes will release the results thru their DELE portal. All candidates will receive an email from them when the results are released. The official certificates will not be available until at least 6 months after the exams have taken place.
DELE Preparation Courses
This is a hybrid DELE preparation course, that includes:
Online preparation course developed by Instituto Cervantes to know the structure of the exam as well as to develop the skills to pass it;
Group tutorials online and face to face to practice with each of the 4 specific skills: reading, listening, writing and speaking.
Deadline to register and upload all supporting documents: March 21. No late registration will be accepted.
| | |
| --- | --- |
| Individual Application | Discount Rate* |
| HK$2,100 | HK$1,890 |
* The discount rates above is available for UOWCHK current students / staff, applicants who registered our DELE for May 2023
DELE Mock Exams
This is an examination practice for the DELE which includes:
All tasks for the written exam (reading, listening and writing)
Individual oral interview
Individual feedback from a certified DELE examiner
Deadline to register and upload all supporting documents: 7 April. No late registration will be accepted.
| | | | | | |
| --- | --- | --- | --- | --- | --- |
| Level | Individual Application | Discount Rate* | Date | Schedule Written Exam | Oral Interview (including preparation time) |
| DELE A1 | HK$725 | HK$653 | Saturday, May 6 | 9:30-11:20 | 20 minutes |
| DELE A2 | HK$800 | HK$720 | Saturday, April 22 | 13:30-16:30 | 24 minutes |
| DELE B1 | HK$900 | HK$810 | Saturday, April 15 | 13:00-16:30 | 30 minutes |
| DELE B2 | HK$1,100 | HK$990 | Saturday, May 6 | 11:00-14:45 | 40 minutes |
| DELE C1 | HK$1,150 | HK$1,035 | Saturday, May 6 | 10:00-14:15 | 40 minutes |
| DELE A1 Escolar | HK$725 | HK$653 | Saturday, April 29 | 9:30-11:40 | 20 minutes |
| DELE A2/B1 Escolar | HK$900 | HK$810 | Saturday, April 29 | 9:30-12:20 | 30 minutes |
* The discount rates above are available for UOWCHK current students / staff, applicants who registered our DELE for May 2023
Application for Preparatory Courses / Mock Exams
Please complete the online application form from the following link:
https://forms.gle/ENSC6i44yKoNSD6f7
Note: No refunds unless the Preparatory Courses / Mock Exams are cancelled or full
For any additional information about DELE preparation courses and mock exams, please contact our DELE Exams Coordinator: Maria Jose PAREJA LOPEZ, mjplopez@uow.edu.au
DELE enquiries and certificate collection