Campus
Tai Wai Campus
UOW College Hong Kong now has a brand-new campus at Tai Wai, New Territories, which has become operational since August 2023 for use in the 2023-24 academic year. It is conveniently situated adjacent to the Tai Wai Rail Station, a junction of two main lines, and served also by other forms of public transportation including buses and minibuses (see Diagram below). With approximately 15,000 square metres of space, the campus can accommodate up to 3,300 students.
Facilities at the Tai Wai campus include a 200-seat auditorium, four 100-seat lecture theatres, 30 classrooms for small-class teaching, purpose-built laboratories and work rooms for computer, design, engineering, languages, social work, aviation and artificial intelligence. With the development of maritime navigation programmes at the College, the campus will also have a maritime laboratory to complement studies in this area.
The Tai Wai campus will also have a spacious library of more than 800 square metres that can accommodate up to 200 students, with spaces for individual self-study or group project work, printing facilities, as well as audio-visual equipment that support student learning. With the support of the University of Wollongong, UOWCHK students can access the e-resources of the UOW Library in Australia, where over 450,000 e-books and 90,000 e-periodicals are available.
The College attaches importance to the holistic and multi-faceted development of students, and the new Tai Wai campus will have provisions such as a small cafeteria, dance studio, fitness gym, and music room for the physical well-being of students.
Getting to New Tai Wai Campus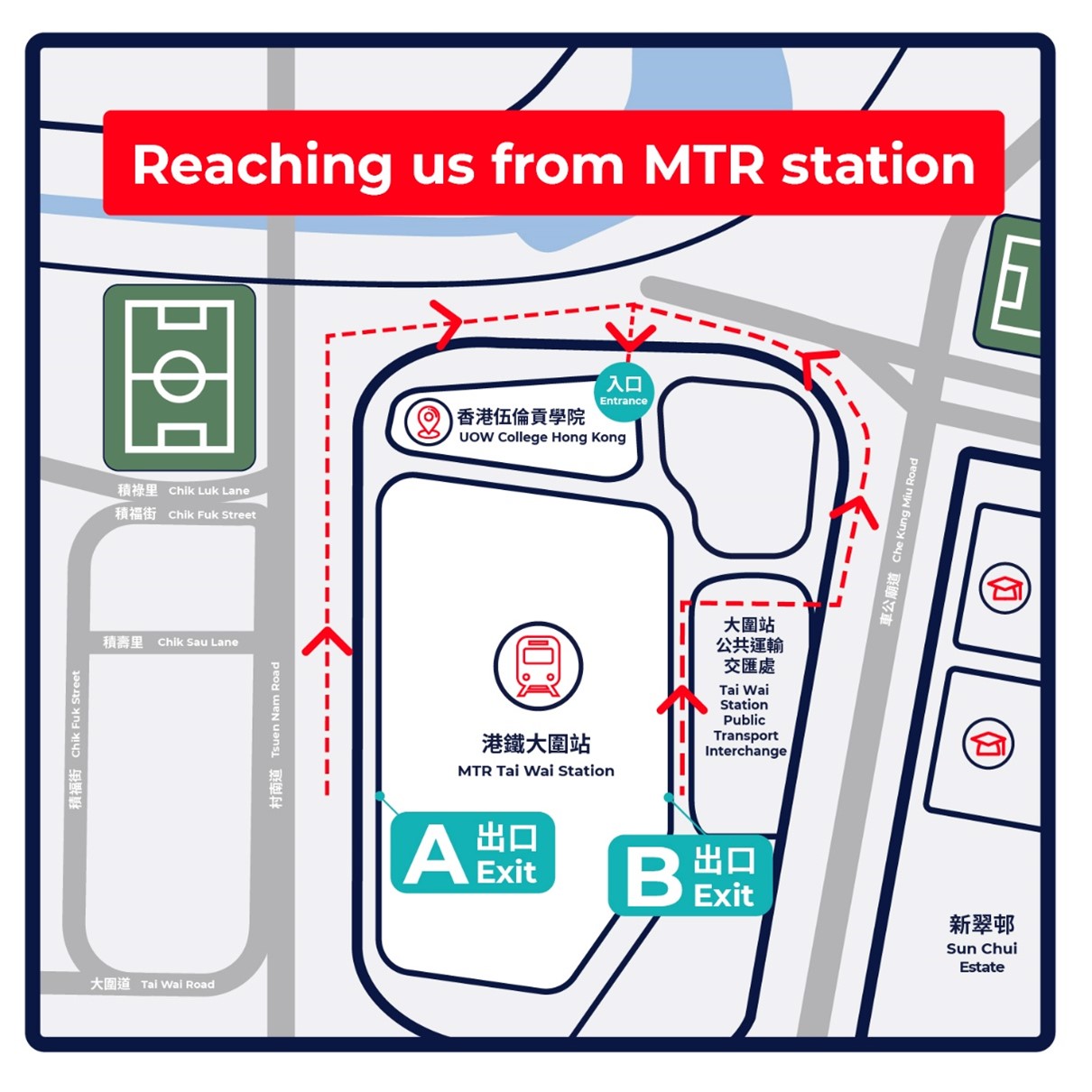 UOWCHK Virtual Tour for Tai Wai Campus
UOWCHK Library
UOWCHK Library is located at Tai Wai. The Library provides easy access to textbooks, periodicals and library materials. Online facilities are available for connection to the electronic resources of the University of Wollongong Library. Millions of resources including over 450,000 ebooks, 260 databases, and over 90,000 electronic journals are available to all UOWCHK students. The library also provides different rooms and facilities to support learning and teaching, including the Project Rooms, Discussion Zone, Computer Zone, Learning Commons, Printing Station, Audio-visual Equipment.