---
A team of UOW College Hong Kong teachers from the Faculty of Business won Silver Award in Investor and Financial Education Award (IFEA) (Teacher Division), which is organized by Investor and Financial Education Council in November 2021.
Our project emphasizes Unity of Knowing and Doing. Knowing refers to financial literacy, Doing refers to the level of participation. Our target is to let students practically apply knowledge in life.
This project reflects our teaching team's effort in equipping students' knowledge and skills with our curriculum structure. Our well-designed programme and enthusiastic teachers help students Learn, Share, Practice and Explore, so that they can do what they know. The award represents an excellent recognition by professional judges.
We believe a well-planned and sustainable project could facilitate the achievement of the education goals. Our staff will conclude the experience this year to improve their work further for the benefits of students in the future.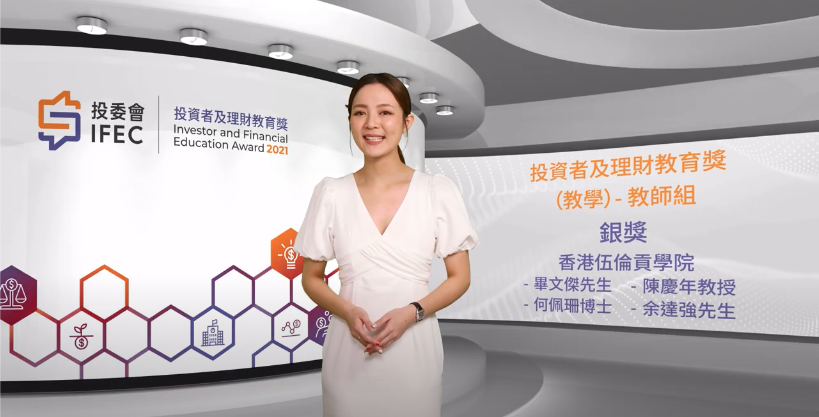 香港伍倫貢學院商學院團隊於投資者及理財教育委員會(投委會)舉辦的「投資者及理財教育獎2021」(教師組) 獲得銀獎。
我們的項目強調「知行合一」,「知」指理財能力;「行」指參與程度。我們的目標是讓學生能切切實實地將知識應用到實踐層面。
這項目反映出學院老師們致力於課程設計以培育學生學以致用。我們精心設計的課程和充滿教育熱誠的老師們協助同學們學習、分享、實踐、探索, 做到「知行合一」。這個來自專業評審的獎項實是對我們努力的最佳肯定。
我們相信一個可持續而優質設計的項目將有利於達成我們的教育理想。學院老師們會繼續總結今次之經驗,進一步改善未來工作以惠及學生。