---
About 50 students of the Tung Wah Group of Hospitals Lee Ching Dea Memorial College were informed and inspired about the potential of big data through a seminar entitled "Big Data and You" organized by the College on 15 November 2023.
The seminar, given by UOWCHK Vice-President cum Acting Dean of Faculty of Science and Technology Dr. Charlie Choi, covered a range of topics related to big data, including its definition, characteristics, and the power it holds. Participants learnt how big data could change the way we live and work, and its potential to improve healthcare, transportation, and public safety, among other areas.
The "5V's" of big data, i.e. Volume, Velocity, Variety, Veracity, and Value, as well as the core technologies of the big data era and its relation to its applications were carefully explained. Dr Choi emphasized the need for more big data research in Hong Kong and that conditions are ripe for a Big Data Research Centre in Hong Kong.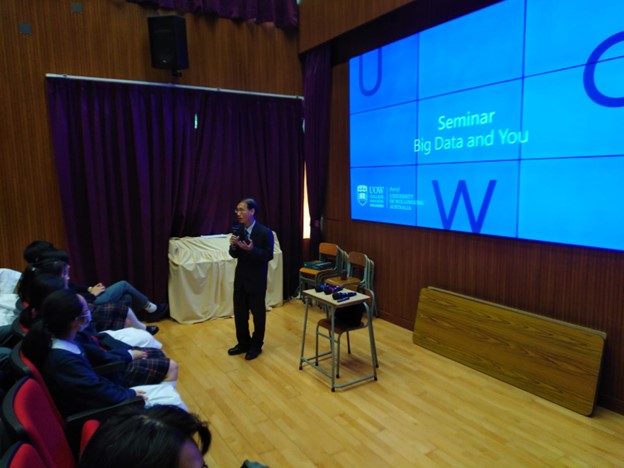 於2023年11月15日,東華三院李潤田紀念中學邀請學院主辦一個名為"大數據與你"的研討會。吸引了約50名學生參與。研討會涵蓋了與大數據相關的一系列主題,包括其特徵以及所具備的潛力。研討會還涉及了大數據的5V原則,包括數據的量、速度、多樣性、真實性和價值,以及大數據時代的核心技術及其應用。研討會講者香港伍倫貢學院副校長暨科學院署理院長蔡耀權博士強調,香港需要進行大數據研究的必要性,並解釋為什麼香港已經準備建立一個大數據中心。參與者了解到大數據有潛力改善醫療保健、交通運輸和公共安全等領域。