---
The College hosted two online workshops on the use of AI technologies to benefit students and teachers. The first AI workshop was held on 16 February 2023 introducing how to use software tools for mathematics problem-solving and to use AI technologies for handling photographs, 3D images, and videos. The second AI workshop was held on 16 February 2023 providing an overview of IELTS and the AI tools available for enhancing students' learning. A total of 39 participants from secondary schools had signed up for the two workshops.
The lecturer in the first AI workshop demonstrated two powerful AI software tools, Microsoft Mathematics Solver and PhotoMath, and how these could improve students' learning abilities. The audience witnessed how over 80% of the questions in past DSE exam papers could be solved at the press of a button, leaving only those that required the human mind to take a prior step of finding equations from stories in text descriptions. (See Picture 1).
The lecturer further demonstrated how the AI software could help students perform excellent work in design with six AI tools. With a few strokes on the keyboard, the lecturer transformed photos scenarios from black and white to colour, generated pictures from written text and removed unwanted components from photos and videos.
The second AI workshop demonstrated how teachers could teach IELTS reading, writing, speaking, and listening topics with high efficiency and economy of time. The lecturer made use of an IELTS Practice Band 9 App which could provide self-practice exercises for students. There were also two AI technologies that could help students improve their writing skills, namely Text Generation and Paraphrase (See Picture 2).
The workshops were inspiring and successful in arousing eager responses from the participants.
Picture 1: Use of Tool for Solving Mathematics Problem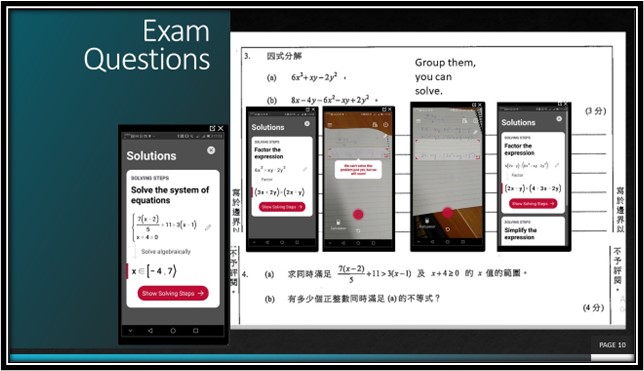 Picture 2: ILETS Training Course