Diploma of Applied Education
What is Diploma of Applied Education
Newly launched in 2022, the Diploma of Applied Education (DAE) is offered by participating institutions under the Federation for Self-financing Tertiary Education (FSTE) to provide trained personnel for the job market in Hong Kong. Tailored for young people or those already working and developed by notable education professionals, the DAE prepares candidates for further studies or employment and today's environment, based on the 4 core values of literacies of fundamentals, society, cognition, and integrity. UOW College Hong Kong is pleased to start offering the DAE in the 2023-24 academic year.
Apart from the mandatory subjects of English, Chinese and Mathematics, students enrolled in DAE may select electives from a wide range of practical subjects such as usage of applied data that suit their needs. It is an additional pathway towards higher education and whole person development. Holders of the DAE are deemed to have passed the equivalent of 5 "Level 2" subjects (including Chinese Language and English Language) in the Hong Kong Diploma Secondary Education (HKDSE), enabling them to enter Associate Degree or Higher Diploma programmes and some civil service positions.
Eligible graduates will receive 30% refund of tuition fee by the Government. They will also be eligible for tuition reimbursement in full or half from the Student Finance Office upon passing the means test.
Faculty

Arts and Humanities

Prog. code

DAE

Campus

Tai Wai Campus

QF Level

3

Mode of study

One-year Full-time

Tuition fee

HK$39,600

Award type

Diploma of Applied Education
Admission, entrance requirements and fees & financial assistance
Applicants must submit their applications online at www.dae.edu.hk in early December 2022 for the first round.
The Diploma of Applied Education admits Secondary 6 school leavers or adults aged 21 or above.
Fees
Application Fee
$200
Tuition Fee
HK$39,600
Financial Assistance
Students are eligible to receive reimbursement of 30% of the tuition fee from the government if they have successfully completed one subject (i.e. achieving 80% attendance and obtained a "pass" in overall assessment), Students who passed the means-test of the Working Family and Student Financial Assistance Agency are eligible for full or half tuition fee reimbursement for successfully completed subjects. Please call 2820 2345 for tuition fee reimbursement.
Other Financial Assistances
Extended Non-Means Tested Loan Scheme (Tel: 2150 6223)
Student Travel Subsidy (Tel: 2802 2345)
Subsidy Scheme for Internet Access Charges (Tel: 2802 2345)
Selected graduates may also be awarded subsidies from the Sir Robert Black Trust Fund.
Upon successful completion of the programme, students should be able to:
Demonstrate functional competence in English and Chinese in daily life, study and work settings and communicate information and ideas effectively;

Apply numerical and information technology skills in authentic situations;

Identify problems and provide appropriate solutions from multiple perspectives;

Engage in effective interpersonal communication in daily life, study and work settings;

Apply knowledge and skills in a specialized field to familiar and sometimes unfamiliar situations;

Pursue their academic and career aspirations actively and display positive attitudes towards work and learning; and

Recognize the importance of perseverance, integrity, being trustworthy and responsible in study and work settings.
The curriculum provides a foundation to prepare students for further study at tertiary level. It comprises core subjects of Chinese, English and Mathematics and two supplementary courses which are selected from Digital Citizenship, Technological Innovation Skills, Interpersonal Communication and Personal Development and Maths Plus*. Students also need to select electives from the following clusters which include:
*Upon successful completion of Maths Plus, holders of the DAE are deemed to have passed the equivalent of 5 "Level 2" subjects (including Chinese Language, English Language and Mathematics) in the HKDSE.
Elective Clusters (Each Elective Cluster contains 3 subjects)
Elective Cluster

Course Content (Chinese only)

Arts and Languages

Basic Heritage Management

本選修群組向學生介紹各種有形和無形的文化,而重點是香港的文化遺產。課程為學生提供文化遺產行業服務所需的基本知識和技能。

升學建議︰學生完成課程後,可升讀本校文學副學士相關課程。

Japanese Language and Culture

本選修群組為學生提供日語和日本文化的基本知識;學生將可具備相關學術或就業技能。

升學建議︰學生完成課程後,可升讀本校文學副學士(日語)或文學副學士 (雙語傳意 )相關課程。

Korean Language and Culture

本選修群組為學生提供韓語和韓國文化的基本知識;學生將可具備相關學術或就業技能。

升學建議︰學生完成課程後,可升讀本校文學副學士(雙語傳意)相關課程。

Business and Management

Start Up Your Own Business

本選修群組介紹與創意、規劃、啟動創業相關的基本概念;並教導學生如何以創業的方式思考和行動。學生將了解基本理論,以開發獨特的產品或服務,將其推向市場。

升學建議︰學生完成課程後,可升讀本校工商管理副學士相關課程。

Marketing and Retail

本選修群組旨在為學生提供營銷和零售的基本知識。課程涵蓋了實用知識、理論和技能,使學生能夠在不同業務中實踐習得的營銷技巧。升學建議︰學生完成課程後,可升讀本校工商管理副學士(市場學)或相關課程。

Customer Opinion Survey and Analysis

本選修群組從營銷研究的基本概念開始,向學生介紹抽樣調查的實際技能、各種數據挖掘和數據處理的統計技術以及如何分析結果。

升學建議︰學生完成課程後,可升讀本校理學副學士相關課程。

Economics, Accountancy, Finance and Investment

Practical Banking

本選修群組在為學生提供銀行業的基本概念。學生將學習基本會計、商業經濟學和基本的銀行產品、服務和運營,以及金融市場和系統。升學建議︰學生完成課程後,可升讀本校工商管理副學士相關課程。

Insurance

本選修群組涵蓋保險業的基礎知識及風險管理的原則;學生將可基本了解行業慣例和市場趨勢。

升學建議︰學生完成課程後,可升讀本校工商管理副學士相關課程。

Financial Technology

本選修群組旨在為學生提供基本的定量分析技能,以了解在全球不斷變化的金融環境中金融技術的基本概念、理論、工具、應用和局限性;學生並將學習詮釋金融技術對行業和經濟的影響。

升學建議︰學生完成課程後,可升讀本校工商管理副學士(金融服務)或相關課程。

Transport and Logistics

Global Logistics and Maritime Operations

本選修群組旨在為學生提供全球物流和海運業務管理的基本知識,包括電子商務和海運業務;並加強學生對香港貿易和物流業的了解。

升學建議︰學生完成課程後,可升讀本校工商管理副學士相關課程。

Computer and Information Systems

Mobile App and 3D Animation Developments

本選修群組注重培養學生對計算機和計算機科學的興趣,並強調移動應用的開發、網絡、雲端計算的使用和3D動畫的製作。

升學建議︰學生完成課程後,可升讀本校工程副學士、理學副學士或高級文憑相關課程。

Engineering and Technology

Aircraft Engineering & Engineering Services

本選修群組將為學生提供飛機工程和相關工程服務的基本知識和技能,包括飛機維修的基礎知識,如飛行機械、飛機系統、發動機和推進器,以及飛機維修的實踐和程序;並介紹航空業的安全文化,包括環境、健康和安全法規。

升學建議︰學生完成課程後,可升讀本校工程副學士、理學副學士 (航空及飛行 ) 或高級文憑相關課程。

Unmanned Aircraft Operation

在本選修群組中,學生將學習無人駕駛飛機操作和法規的基本知識,並可順利通過香港民航處的認可要求。

升學建議︰學生完成課程後,可升讀本校工程副學士、理學副學士或高級文憑相關課程。

Sciences

Sustainable Agriculture

本選修群組旨在介紹可持續農業,包括其目標和價值;並描述各種可持續農業和利用自然資源方法的管理策略;以及闡述可持續農業所面臨的挑戰和解決方法,為了解如何建立可持續農業系統打下良好的基礎。

升學建議︰學生完成課程後,可升讀本校理學副學士或高級文憑相關課程。

Medical and Health Science

Nutrition and Fitness

本選修群組讓學生掌握運動和營養原則所需的基本知識,以及發展與未來健康和健身行業相關的專業技能。課程並提倡以改善飲食和體育活動來促進健康的生活方式,以及強調設計有效的運動方案,以滿足個人需求。

升學建議︰學生完成課程後,可升讀本校理學副學士或高級文憑相關課程。

Education, Teacher Training and Sports Science

Outdoor Education and Adventure

本選修群組讓學生掌握相關的專業知識和技能,以規劃、組織、實施、監督和評估香港的戶外教育和探險活動,同時讓學生可從事康樂活動行業。

升學建議︰學生完成課程後,可升讀本校社會科學副學士或高級文憑相關課程。

Fine Arts, Design, Performing Arts and Creative Media

Photography, Graphic Design and Social Media

本選修群組旨在為學生提供基本的概念和技術,以拍攝專業的照片和圖像,用於流行的社交媒體;並學習如何運用新技能和想法,將文本、圖像和據轉換為品牌形象。學生將了解數碼營銷的機會、挑戰和戰略,以及如何籌劃數碼營銷計劃。

升學建議︰學生完成課程後,可升讀本校理學副學士或高級文憑相關課程。

Microfilm Production

學生學習一些微電影制製作的基本概念,如前期製作(預算和劇本寫作)、製作(燈光、拍攝和錄音)和後期製作(視覺/音頻編輯、合成和特殊效果)過程。

升學建議︰學生完成課程後,可升讀本校理學副學士或高級文憑相關課程。

Hotel and Tourism, Recreation, and Leisure

Cultural Tourism and Sustainable Development

本選修群組旨在為學生提供文化旅遊和可持續發展的基本知識,並加強人際溝通和組織能力,以有效推行文化旅遊活動。

升學建議︰學生完成課程後,可升讀本校社會科學副學士或高級文憑相關課程。

Understanding and Navigating Contemporary World

本選修群組把世界事務與越來越受年輕人歡迎的社會和文化旅遊聯繫起來;學生將具備豐富的跨文化和社會科學意識。

升學建議︰學生完成課程後,可升讀本校社會科學副學士或高級文憑相關課程。
Strong Support from the University of Wollongong, Australia
Upon completion of our Diploma of Applied Education, students can progress to Associate Degree or Higher Diploma programmes at our College or other institutions, and then articulate to our one-year University of Wollongong Bachelor's Degree programme or to Bachelor's Degree programmes at various institutions in Hong Kong, with a minimum of four years to complete a university degree. In addition, students can use the abundant resources available at UOW online library.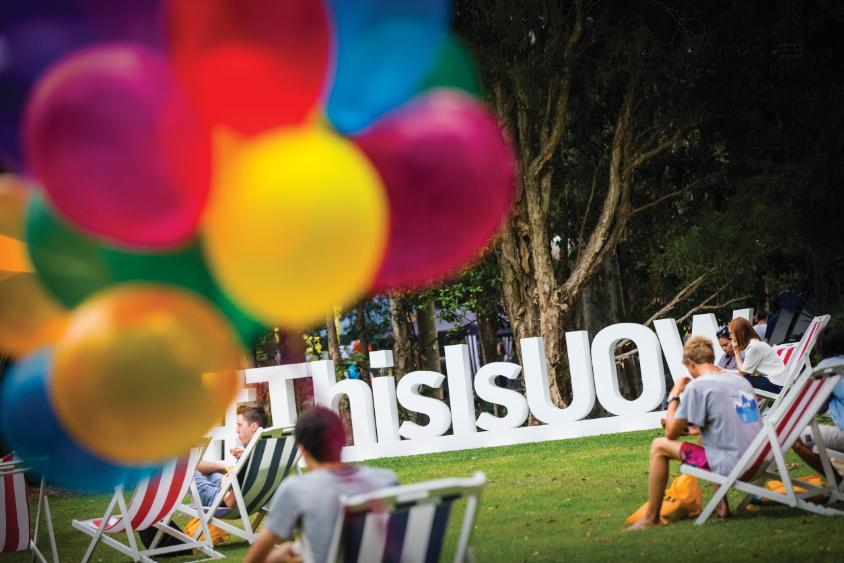 Student centered teaching and learning approach
Teaching staff of the College are in close contact with industrial and commercial organisations in different industries. Each year, over 300 students participate in extra-curricular activities such as internships, project studies and visits to industrial and commercial organisations. In addition, the students also participate in a wide range of local learning programmes funded by the College including community service, cultural exchange, language training, technical training and student-teacher bonding.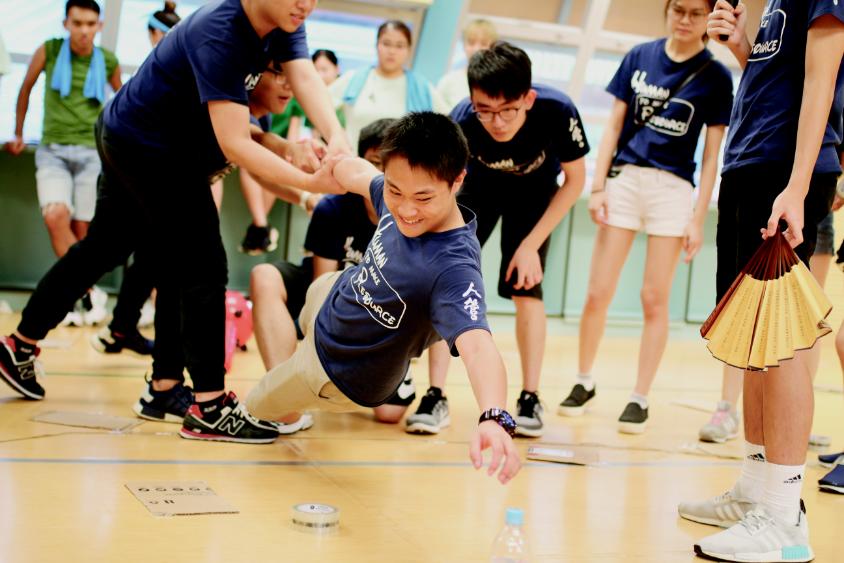 Teaching and Learning Facilities
Our new campus in Tai Wai will be available in 2023. There will be comprehensive teaching and learning facilities which include over 450,000 e-books covering a wide range of subjects, 90,000 e-journals, engineering laboratories, design studios, skills laboratories, computer laboratories, Mac laboratories, language laboratories, dance studios, gymnasiums, music rooms, study areas and much more. In addition to their inspiring and interactive teaching style, our teachers also design the curriculum to suit the needs and profiles of the students.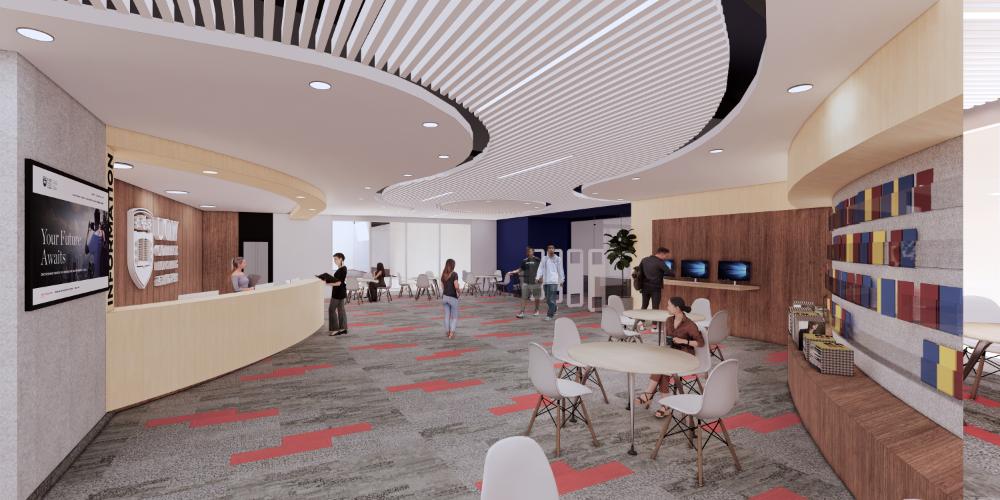 Progression Paths
Students can articulate to our sub-degree programmes offered in a great variety. Upon completion of study, students can choose to study one-year top up degree programme offered by UOW, or degree programmes offered by UOW College Hong Kong.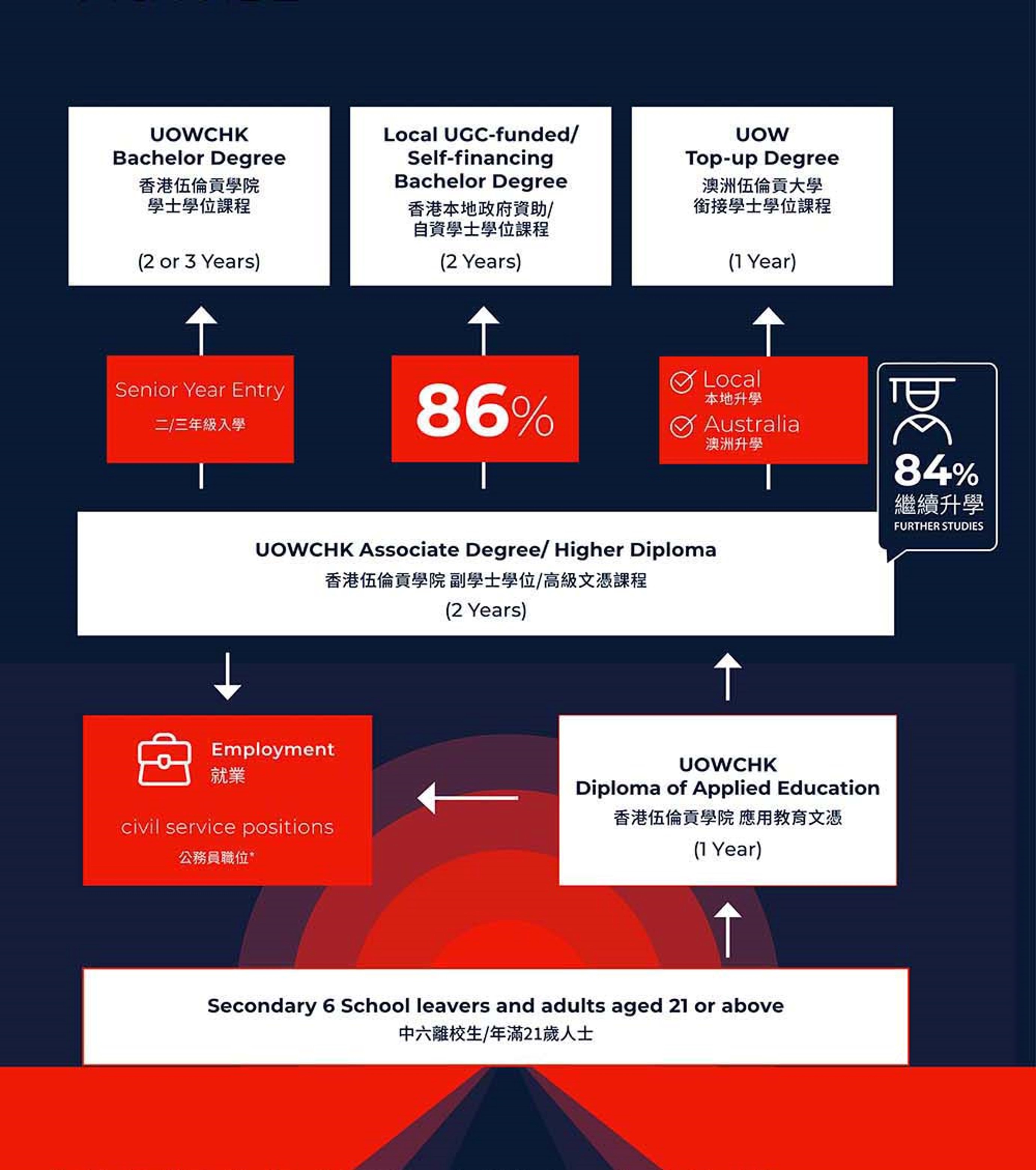 *職位包括:警員、消防員、海關關員、二級懲教助理、二級稅務督察等
Career Prospects
Holders of the DAE are deemed to have passed the equivalent of 5 "Level 2" subjects (including Chinese Language and English Language) in the Hong Kong Diploma Secondary Education (HKDSE), enabling them to enter some civil service positions which include Ambulanceman, Amenities Assistant III, Assistant Census and Survey Officer, Assistant Officer II (Correctional), Customs Officer, Fireman, Police Constable, Postal Officer, Social Security Assistant, Tax Inspector II etc. For those students who have successfully completed the Maths Plus elective course, the Diploma of Applied Education qualification obtained is accepted by the Government as meeting the academic entry requirement of civil service posts requiring Level 2 standard in five subjects including Chinese Language, English Language and Mathematics in the HKDSE Examination. These posts are Assistant Clerical Officer, Assistant Taxation Officer, Assistant Trade Controls Officer, Land Inspector II and Supplies Supervisor II.
Programme Leader Dr. YUEN Louisa Miu Yi
Tel: 2707 3113/2707 3249
Contact us
Faculty of Arts and Humanities
Telephone: (852) 2707 3113
Fax: (852) 2707 3114
Email: uowchk-fah@uow.edu.au
Address: 1/F, Le Billionnaire, 46 Sa Po Road, Kowloon City, Hong Kong
[Sung Wong Toi MTR Station Exit B3]
College Office
Telephone: (852) 2707 3111
Fax: (852) 2707 3222
E-mail: uowchk-main@uow.edu.au
Address: 1/F, Le Billionnaire, 46 Sa Po Road, Kowloon City, Hong Kong
[Sung Wong Toi MTR Station Exit B3]